Vademecum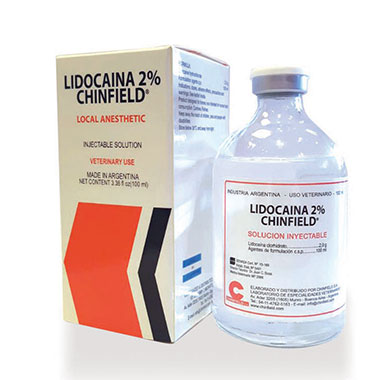 Lidocaina 2% Chinfield
Local Anesthetic
Benefits:
Local Anesthetic.
Indications:
Infiltrative anesthesia, epidural spinal, paravertebral, nerve block. Diagnostic anesthesias in claudications.
Target species:
Horses non intended for human food consumption. Canines. Felines.
Routes of administration:
Injectable, intramuscular, subcutaneous, intradermal, epidural, intraarticular.
Posology, dosage and administration:
Posology and suggested dose: Local, regional or nerve block anesthesia: In general for all species: 0,3 mg/klw equivalent to 0,15 ml/klw.
Epidural anesthesia:
Equines: 2 to 4 ml/100kg of weight for back anesthesia keeping standing position. Above this dose, it is expected the equine decubit due to front blockage.
Canines and Felines: 1ml every 4,5kg of weight blocks up to L1.
1ml every 3,4kg of weight blocks up to T5.
Contraindications:
Hypersensivity to any of the product components. Acute inflammation areas.
Possible Adverse Effects:
Local: transitory inflammation on the site of application which weakens rapidly.
General: they are related to the dosage and are mild. They include neurological signs as depression, ataxia, muscular tremor, nausea and vomits (these last two not in equines).
Interactions:
Incompatible with dopamine, sodium ampicillin, norepinephrine.
Precautions:
In case of peripheral nerve block, apply as close as possible of the nerve to block.
In case of peridural administration, do not exceed the administration rate of 0,5 ml every 20 seconds. Perform the aspiration maneuver to avoid intravascular application.
Be cautious in patients with liver disease, congestive heart failure, shock, hypovolemia, severe respiratory depression or marked hypoxia.
Presentation:
Box containing 1 ampoule bottle x 100 ml.
Formula:
Lidocaine hydrochloride …………………. 2, 0 g
Formulation agents q.s ………………….100 ml
The product must be applied by a Veterinary Doctor.